Wholesale Glass Supplier for the
entire Dallas-Fort Worth Metroplex
At Thermotec Glass, we deliver more than quality wholesale glass for commercial and residential purposes. We have been serving the Dallas-Fort Worth Metroplex area with a heritage of quality for many years.
Thermotec Glass works hard to be the best at what we do by making sure that integrity and excellence permeate every aspect of our operations. You'll find it easy to do business with us. Our company provides a full spectrum of services – from trustworthy knowledge and education… through product sale… and beyond. This makes us the complete wholesale glass supplier of choice for:
Homeowners
Commercial Contractors
Builders/Remodelers

Realtor Referrals
The NEW Standard for Strength & Durability

Thermotec Glass materials have been tested and retested to pass over 50 years from unit failure. Learn more about the
D-2000 REACTIVE Hot Melt Butyl technology used in our materials by clicking here.
We Utilize Edgetech's
Warm Edge Spacer Technology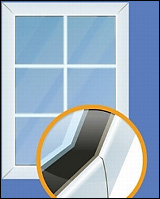 What is Warm Edge Technology? Warm Edge Spacer Technology refers to the type of spacer material used to separate the glass lites in an insulating glass window unit. If the material is less conductive than a conventional aluminum spacer at the edge of the glass, it is said to be warm edge.

Most newer window spacers are less conductive and outperform aluminum. But, there's still one small problem – they may contain some kind of metal, which is highly conductive.

Unlike "warm edge" spacer options that contain steel or aluminum wrapped in butyl rubber, Super Spacer® is made of 100 percent foam. Super Spacer's TrueWARM® NO-Metal formula blocks the heat escape path and provides some of the best thermal performance and durability in the industry. Click here to learn more about Super Spacer's performance.
Thermotec Glass
CALL TODAY: 972-479-1626
FAX: 972-479-0620
3235 Skylane Dr., #115, Carrollton, TX 75006